Archive for the 'Lomography' Category
Jun 1, 2010 Lomography
Lomography emphasizes casual, snapshot photography. Characteristics such as over-saturated colors, off-kilter exposure, blurring, "happy accidents," and alternative film processing are often considered part of the "Lomographic Technique."
I have been meaning to try lomography for the longest time. I even made a list of the basic things, cameras and films, that I wanted to buy. Of course, budget and laziness got in the way. Anyway, I saw these really colorful lomo photos from Light Stalking and it got me all inspired again. I just love colors. But I won't probably get lomography equipments just yet. I want to try the lomo lens made for SLR first. I saw them somewhere, if only I can recall it. I am so forgetful. Good thing I am not pregnant, as I bet I would even forget taking prenatal vitamins.
Apr 29, 2009 Lomography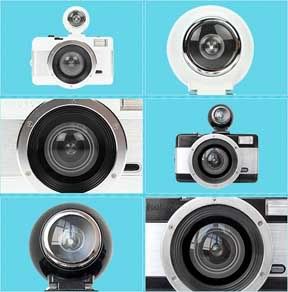 Not only does it have same 180-degree wide-angle view & stunning fisheye barrel distortion, but the Fisheye No. 2 adds a bulb setting for long exposures, a switch for multiple exposures on the same frame, the ability to fire both a hotshoe flash & the built-in flash, a true fisheye viewfinder, & a "full metal jacket" body treatmentWith this new arsenal, the possibilities for your Fisheye lomography are endless! Uses normal 35mm film that can be developed anywhere
I am planning to try lomography. I am eyeing the fisheye camera #2. It is quite affordable which is the main consideration as I don't want to spend much since I want to try out first if I'm going to like it. Another thing I considered is the film. This one uses the ordinary 35mm film that can be developed anywhere. But then there's this office furniture that we need to purchase first. So this will have to wait.
Apr 11, 2009 Actions, Freebies, Lomography
Just when I was thinking about trying lomo again, I came across this free Photoshop action that converts your photos into lomo. For the meantime, while I am thinking about this again (and I know it will take me a long time to decide), I'll just settle for some Photoshop actions.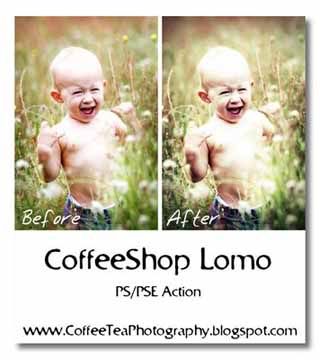 You can download this free action from CoffeeShop.
Apr 9, 2009 Lomography, Wishlist
I have considered trying out lomography. If money was not a consideration, I would have not think twice about trying it out. The gadgets aren't really pricey but I think having the photos developed would cost me a fortune as I take tons of pictures. Anyway, I still have my DSLR and I will focus on learning more about digital photography instead. However I came across these cute cameras from Urban Outfitters and I think I want them.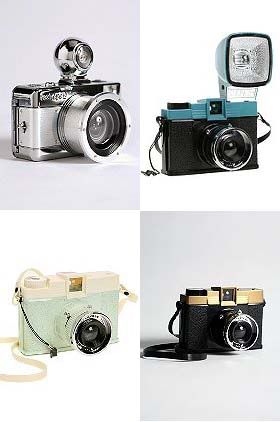 Sep 29, 2008 Lomography, Photoshop, Photoshop Tutorials
While I am still thinking if I should try lomography, I tried editing some photos to make them look like lomo photos.
Edited photo is on the left.
I followed these steps which I got from Photoshop Tutorials.
Creating the vignette:
1. Open a photo to edit.
2. Follow the steps below according to the version of Photoshop:
* Choose Filter> Distort> Lens Correction.
* Inside the Lens Correction filter, adjust the settings in the Vignette section to create the vignette. (Amount is -100, Midpoint is +75}
Adjusting the color:
1. Inside the Channels pallete (Window> Channels), select the red channel.
2. With the red channel selected, use the Brightness/Contrast tool (Image> Adjustments> Brightness/Contrast) and increase the contrast. The higher you set the contrast, the stronger the color effect will be. I found that increasing the contrast by 50 produced the most realistic results.
3. Now select the green channel and use the Brightness/Contrast tool (Image> Adjustments> Brightness/Contrast) to increase the contrast by the same amount you did in the previous step.
4. Select back the RGB channel (Ctrl+~) to view the final results.
These are created at http://www.dumpr.net/lomo.php.